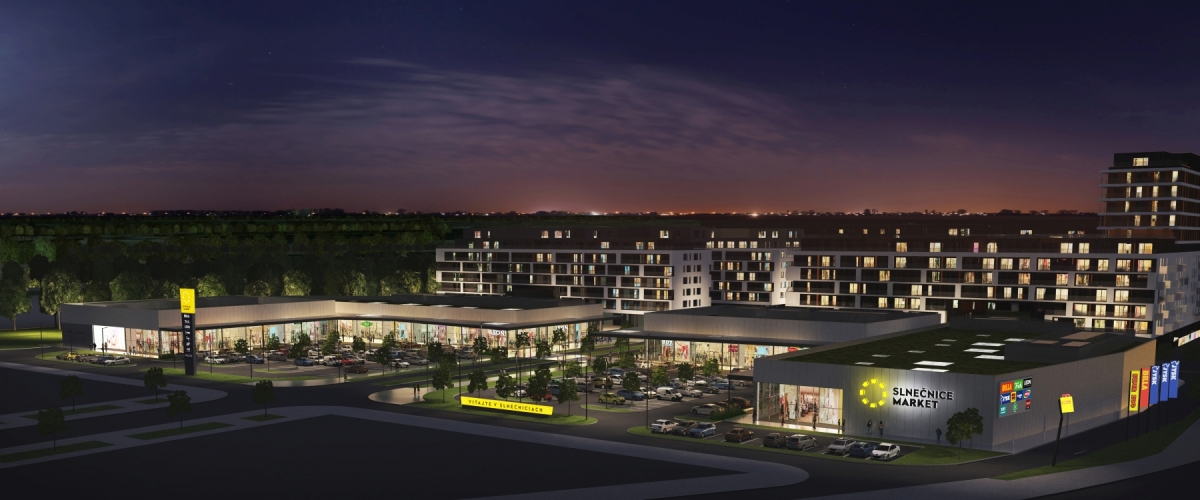 26.10.2017
Slnečnice market shopping mall opens its gates in autumn
More than 30 shops, local catering businesses and small farmers will be opening their businesses in the Bratislava Petržalka estate from the end of November 2017. The largest residential developer in Slovakia, the company Cresco Group, is opening a local shopping mall, Slnečnice Market, in the newly emerging city quarter. The new shopping zone may soon be used not just by city residents from the nearby Petržalka quarter, but also by residents from neighbouring villages such as Jarovce and Rusovce, all in all that's more than 115 000 people.
"We were inspired to create a local shopping centre in the heart of the newly-built Slnečnice city quarter not just by similar residential projects abroad, but also by our clients' needs. They have, until now, been missing a similar shopping area, with classic brand outlets as well as a range of local farmers and catering facilities. Our goal is that Slnečnice gradually becomes a place with comprehensive infrastructure and services for modern living – ranging from possibilities for relaxation, sport, school facilities, through to everyday shopping.  We believe that Slnečnice Market will soon become a favourite with all Bratislava residents," said Ján Krnáč, Executive Director of Cresco Group.
In the first phase of the opening, on 30 November 2017, visitors to Slnečnice Market will find branded stores such as BILLA, JYSK, PLANEO Elektro, 101 Drogerie, Pepco and Super Zoo, as well as a pharmacy and newsagents kiosk.
Other retailers and services will arrive at the centre during the second phase of Slnečnice Market's opening in the following weeks. This will include an extensive farmers' marketplace where you can buy fruit and vegetables. This area will also include specialised shops and a food court.
The new Slnečnice Market shopping mall:
will open at the end of November by the Slnečnice roundabout in the Mesto zone.
the mall will house more than 30 retailers across an area of more than 8300 m²
it will include a farmers' marketplace where you can buy fruit and vegetables. This area will also include specialised shops and a food court.
Outlets in the farmers' marketplace: Culka Fruit, Village Farm, Víno Hruška, Zelený obchod, Špajza, Vallo syry, Dávidkovo koření, Brew Bar Café
food court in the farmers' marketplace: KafeHaus Fertucha, Chuť Chorvátska, Naam Thai Food, Slnečnice Kebab, Pivný Svet, Food 2.0, I Love Pasta, Hummus, EDO-KIN, Mníchovské bistro
other mall tenants: BILLA, JYSK, PLANEO Elektro, Pepco, Super Zoo, 101 Drogerie, pharmacy, newsagents kiosk, children's exercise area
Slnečnice Market is easily accessible by public transport and car, with 195 public parking spaces available. "An advantage of the Slnečnice Market shopping mall lies primarily in its location and great accessibility by Bratislava public transport as well as by car from neighbouring catchment areas, such as Rusovce, Jarovce, Čunovo, Rajka and Petržalka. Buses are already running to this locality, with the bus stop right next to the shopping mall. The plan is that by 2021 there will also be a tram connection to the city centre, with the final stop at Janíkov dvor, which is just a few minutes walk from Slnečnice Market. So future residents and visitors needn't worry about complicated transport," added Ján Krnáč.
By the end of 2017 the shopping mall will be used by almost 1000 households in the Slnečnice project, with a further 115 000 residents falling within its catchment area.
In addition to the possibilities offered by the Slnečnice Market shopping mall, the Mesto zone at Slnečnice also offers ground-floor premises for shops and services in apartment buildings. Together they create an urban boulevard, providing residents a zone with everything they need for spending work or leisure time outside their homes.