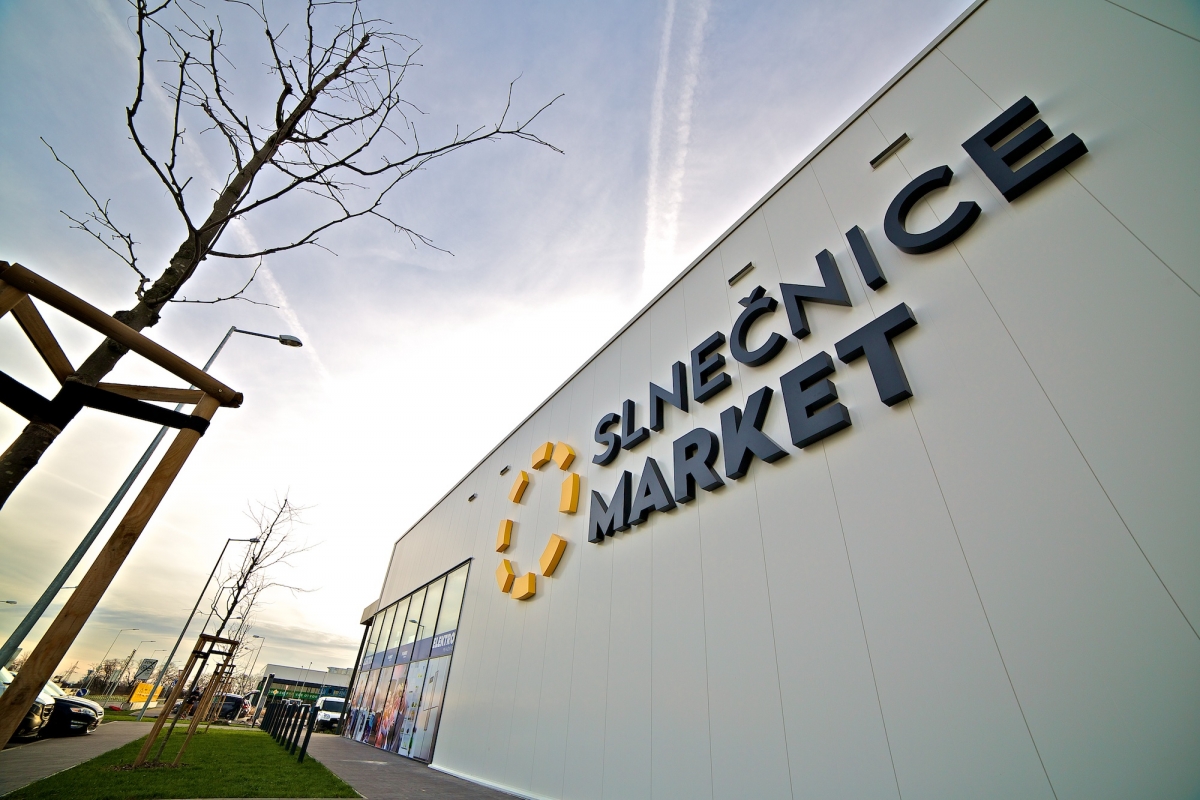 29.11.2017
Press Release: Slnečnice Market shopping mall opens its gates to the first customers on Thursday
On Thursday 30 November 2017, a new shopping mall Slnečnice Market in Petržalka, Bratislava will open its doors. The local mall has nearly 200 parking spaces available. Slnečnice Market, with the catchment area of more than 115,000 inhabitants, is a part of the newly created neighbourhood Slnečnice of the biggest residential developer CRESCO GROUP.
During the first stage, the new shopping mall will offer its customers renowned stores for the whole family like BILLA, JYSK and 101 Drogerie on the area of 4,242 m2. Our goal was to create a varied mix of tenants as well as a place to complete a quick purchase. We are pleased that we were able to bring together popular and proven brands,"said Claudia Verkin, Manager of Administration & Leasing at CRESCO GROUP.  The new shopping zone can be used not only by the inhabitants of the capital, nearby Petržalka, but also by adjoining villages such as Jarovce, Rusovce and Rajka.
Operations commenced in the new Slnečnice Market shopping mall from 30 November 2017 of:
BILLA
JYSK
PLANEO Elektro
PEPCO
101 Drogerie
Super Zoo
GECO tabak
Pharmacy (opens in a few weeks)
The developer plans to open the second part of Slnečnice Market called Trch. early next year. In addition to local gastro operations, it will include a traditional farmers' market. "In designing the centre, we have met the requirements of the people living in and around Slnečnice, who are lacking the local farmers' offer in Petržalka," added Claudia Verkin. The market name Trch. represents a delicious market. Visitors to the farmers' market may choose local products for example in outlets like Víno Hruška [Pear Wine], Zelený obchod [Green shop], Špajza [Pantry] and Vallo syry [Vallo Cheese stores]. There will also be interesting and quality gastronomic operations such asKafeHausFertucha, I Love Pasta, Hummus, NAAM Thai Food and EDO-KIN.
New Slnečnice Market shopping mall:
The first half of the mall is open from 30 November 2017 by the Slnečnice roundabout in the Mesto zone in the south of Petržalka, Bratislava
From 2018, it will include a farmers' market where you can buy fruit and vegetables, specialist stores and a gastro zone, as well as the LEON children sports centre 
A total of more than 30 shops, local restaurants, specialist shops and the offer of small farmers will be located in the mall over an area of more than 8,300 m2
The mall offers 195 parking spaces available for customers
Opening hours: Monday to Sunday 9am - 8pm, BILLA will be open from Monday - Saturday 7am - 9pm and on Sunday 8am - 8pm
By the end of 2017, almost 900 households will be able to use the shopping mall in the Slnečnice project with the catchment area of more than 115,000 inhabitants. Besides the mall's possibilities, the Mesto zone in Slnečnice will offer space for shops and services at the parterre of the blocks of flats with the area from 50 to 250 m2. They will create a boulevard and provide the inhabitants with everything they need for spending their working or free time outside their homes. The aim of the developer is to make Slnečnice a place with comprehensive infrastructure and services for modern living - from the possibilities for relaxation, sports and school facilities to everyday shopping.