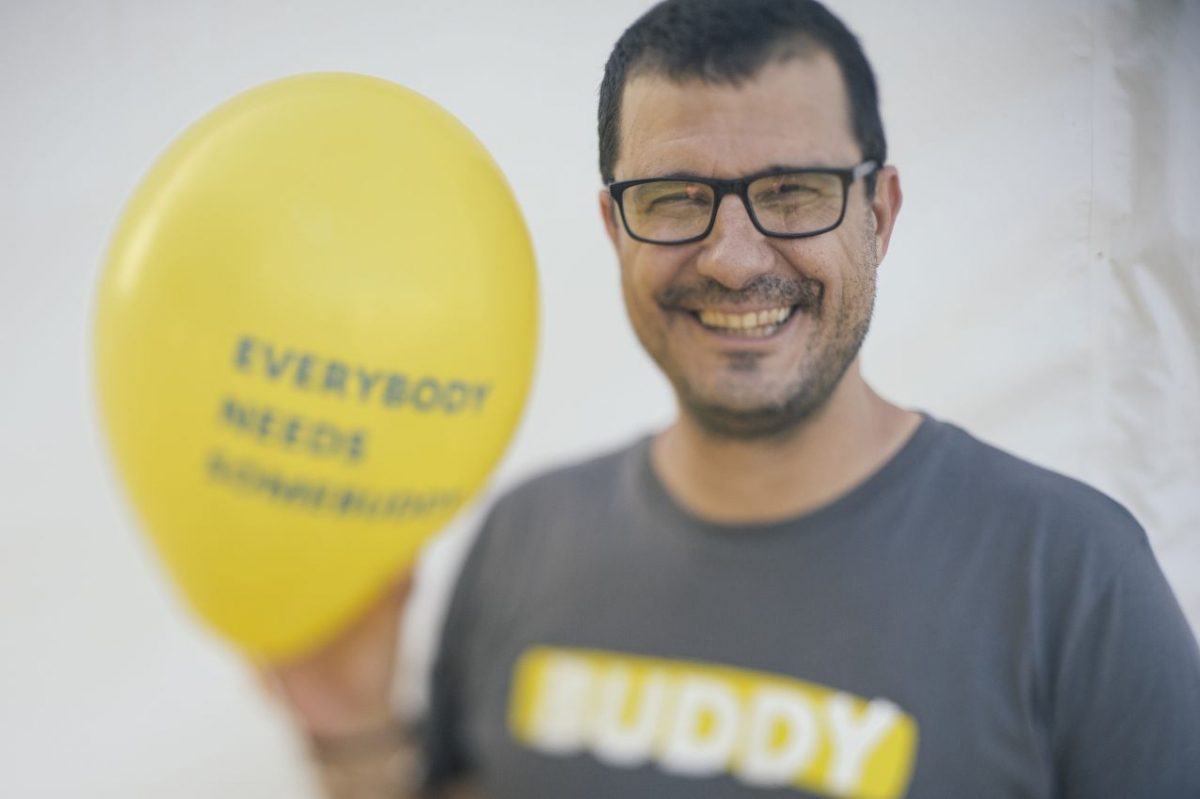 12.04.2019
Interview: We help children with no families become independent
Can you remember the situation or moment when you first had the idea to create BUDDY?
As there is no such thing as coincidence, this idea wasn't born in my head without an impulse. I studied abroad with good career prospects. However, in 2004, I decided to return to Slovakia and I started doing business. It all went well. I could buy what I needed, but I felt that I can and want to do more. One day, I bought a bracelet for one thousand crowns from children from an orphanage (today it's called Centre for Children and Families) at a shopping mall. They invited me to visit them. When I talked to their caretakers, I realized that what these children need is a meaningful way of spending free time. Together with my sister Lucia and a few colleagues from work, we were thinking about helping them and we decided to organize a summer camp as volunteers. This was such a nice and strong experience that we wanted to keep doing more. We founded a civic association called PRO VIDA with its core program BUDDY. Within this program, we prepared various activities aimed at children's skills development – seminars, workshops and trainings. However, we realized that kids need someone with a stable background and firm values who would support them and help them discover their talents and find a place in life. Gradually, our attention turned to the quality of BUDDY relationships and the support of volunteers.
Why do you think that this form of non-material help is essential for kids from orphanages? Most people want to help them especially by making material or financial donations…
When I accepted the invitation to visit an orphanage in Podunajské Biskupice, I realized that those children are basically taken care of from material perspective. They are safe, they have shelter, food, clothes and toys. What they didn't have was a real contact with the outside world where they could just be themselves. I realized that they needed a role model to show them how the world works, how people live and work. That's why the role of volunteers who guide children through this journey is irreplaceable. In most cases, biological parents usually didn't have time or possibility to do so. They were flooded with their own problems, often existential ones. In children's centres, kids are part of a larger group and caretakers just can't pay attention to every single child independently even if they wanted to. Which is what a BUDDY volunteer can do.  
Has the BUDDY program fulfilled your expectations?
It all started with a few enthusiasts who wanted to selflessly help children. Only later did we discover how complex this issue was. We've created a program that is complementary to institutional care. We strongly believe that children should grow up in families. However, if this is not possible and children get substitutive institutional care, BUDDY is there to help. Working with children requires professional approach, time and patience. It's a long-distance run. We were very pleasantly surprised when we saw the first results. We saw how meaningful and important this job is. We are glad when more and more volunteers and financial donors join us, because they believe that the program is meaningful and beneficial for the entire society. At the moment, I'm very happy that there are 26 young people who left their centre (former orphanage) this year and more than 90% of them live independently. Although this number may not seem high, for us, it's a great success, because it includes 26 stories of people who we know personally, with whom we shared their problems and joy and now we're happy that they live a decent life. It's also great that we stay in touch with the majority of kids who leave a children's centre. We don't see it as a given, as children who leave institutions are usually not interested in staying in touch. Two years ago, we carried out qualitative evaluation of our program's impact. The results showed that 96% of kids want to stay in contact, 94% feel good or great with their volunteer and more than 80% said that their volunteer helps them with school and encourages them. The program has a lot to offer to volunteers as well. They get a new outlook on life, new experience and develop their personal traits, including humbleness, empathy, etc.
What would you like to add to BUDDY activities in the future? Why?
Our goal is to make sure that children living outside family environment have a long-term quality relationship with a BUDDY volunteer and prepare for a decent independent adult life. That means having regular income, a home and good social background. We now actively work with 12 centres for children and families in western Slovakia. Our ambition is to improve the quality of our activities, strengthen the volunteer support system and gradually expand to other regions of Slovakia to help all children who need us. At the same time, we've received requests from foreign institutions who wish to implement our program. For now, our priority are Slovak children growing up in children's centres, although our program covers several children living in foster families, as BUDDY is suitable for them, too.
Are you a BUDDY as well?
Yes, I've had my BUDDY for two years. It all happened gradually. In 2016, BUDDY program moved from group meet-ups and activities to a phase in which we focused on creating BUDDY duos. The program shifted its focus to fostering relationships and supporting volunteers. Recruitment, selection and training of volunteers have become more professionalized, which means that volunteers can help children more effectively. When this program change stabilized, I became a BUDDY as well.
Do you think that the Slovak society is open to projects aimed at helping kids from orphanages? In other words, children who don't live in the same environment?
From my own experience, I can say that the society is open to it. Today, we value our free time and consider carefully how and with whom we spend it. Nevertheless, 81 Slovaks decided to actively spend their time with BUDDY program with children without a stable family support. And their only aim is to help them integrate into an adult life. The number of people interested in becoming volunteers has been increasing. We feel that people are interested in joining us in our effort to help children. They trust us because we have been focusing on high-quality and long-term support. We are very thankful to those who support us financially as well. They help us maintain the BUDDY program, make it better and ensure that kids in need get access to it.
Is it difficult to attract new BUDDIES?
Many people are interested, but becoming a BUDDY is a complex process centred around children's fragility. We are looking for volunteers in specific communities and towns. Each applicant goes through a long selection process lasting several months. Sometimes we have to tell an applicant that it's not the right time for them to become a BUDDY or they find out that this not what they want. We try to carefully explain all the responsibilities that a BUDDY has. At the same time, our volunteers are not alone. We regularly organize trainings and our professional psychologists stay in touch with all buddies and consult their relationship with the BUDDY kid.
If a person wants to become a BUDDY, how much time should they dedicate to a child?
Several hours a week. Volunteers needs to find time for trainings provided by the BUDDY program, meetings with program coordinators and, naturally, meetings with the child. For the first two years, meetings should take place at least once a week. The volunteer agrees on a day and time of pickup and return back to the children's home with the child and his caretakers. Within the program, we create space for group activities so that several volunteers and kids can get together and get to know each other. BUDDY is a community and our wish is to create bonds within the community of kids, volunteers, supporters and BUDDY team. According to my estimate, it's approximately 2 or 3 days per month.
Are there any similar concepts abroad? Were you inspired by any of them?
BUDDY program was created for the needs of Slovak children growing up outside family environment. Our primary goal was to understand them and their needs. In 2006, we had an idea of what the children need the most, so we started to look for the best way how to give them what they don't get from institutional care. So at first, we didn't even look at other countries. When we were looking for ways to implement intervention and program sustainability, we found them in mentoring principles. That's when we started wondering whether there's something like that abroad. We found an American program Big Brothers Big Sisters (BBBS) and other mentoring programs. We understood that a long-term relationship between a child and a mature adult who is carefully selected and supported in combination with the child's skills development is the right way to go. Our practical experience has shown that this is indeed true.
For more information, please visit tvojbuddy.sk.